The present Castlerahan GFC was founded in 1961, prior to then, Ballyjamesduff and Castlerahan fielded separate teams, although they had at various times in the previous thirty years joined forces with some success especially in 1951 when they won the Junior Championship. The club was founded under chairpersonship of Father Michael O'Reilly who continued as chairperson until 1973. The first key breakthrough for the club was in 1964 when a very strong U16 team took the county title when they defeated Kileshandra 2-4 to 2-2. J. Dwyer (1-4) and J. J. Hetherton (1-0) scored that day.
At the county convention in 1966, it was decided to start a championship for the strong junior teams and the weak senior teams, which was called the intermediate championship. When it came to intermediate final time that year, Castlerahan were their and their opponents were Arva. The Anglo Celt report on the match states, although Arva put up a determined challenge, the result was never in doubt and the experience and all round balance of the Castlerahan team was very much in evidence especially when Arva threatened. Although Castlerahan were short five of their normal team, once they settled they set a brisk pace and led at half time by nine points. Arva came more stringly for a while in the second half but Nallen roused his team again and they eventually won by ten points (1-14 to 0-07). As a result, 1967 saw Castlerahan back in senior ranks.
Castlerahan challenged at senior level for many years after this until been relegated in 1974 to intermediate. In around 1975, Castlerahan joined forces with Munterconnaught as an amalgamation in the senior championship as St. Mary's. In 1976, St. Mary's took the senior championship by storm defeating Annagh and Drumalee and later Crosserlough in the semi-final. The final was fixed against Ballyhaise who dominated for a good part of the game but an inspired substitution which brought Mat Galligan into midfield for the final ten minutes swung the game St. Mary's was and they finally won 0-12 to 0-09. St. Mary were again prominent in 1977 when they went all the way to the final but on this occasion Cavan Gaels proved too sharp for them. In 1987, the junior championship was again won by beating Killygarry in the final, while the Junior B team won the league title Division 3A by beating Cornafean in the final
Through the later seventies and early eighties the Castlerahan flag kept flying at county level by Tony Brady who was a regular member of the County Senior panel for six or seven years and played in two Ulster finals.
1991 was a year to remember for Castlerahan GFC. In 1934 onwards, James Brady gave the club the use of one o fhis fields for games and this became the pernamnet pitch for the club. This property was later bought by Cavan County Council and part of it was also for St/ Josephs Hall. In 1961, the club suceeded in buying the field from the Council for £350. The dressing rooms were later erected in 1980 and in 1983 substantial drainage of the field was done. In 1988, a new Park Development Committee was set up to complete the development work on the grounds. During that year further levelling, major drainage work and reseeding took place. In 1989, the playing area was completely fenced off, a surrounding path laid and dugouts erected and later in 1990, the boundary walls were built and further concreting and development of the parking area was completed. On the 25th of May 1991, Fay Park (Páirc Uí Feith) was officially opened. In 1991, Castlerahan also won the junior championship defeating Killinkere in a real battle by 0-12 to 2-5 at Breffini Park under Vincent Maguire, Barney Mulvey and former Ramor Utd player Andy Brady. It was noted in the Anglo Celt that, "Castlerahan fully deserved to regain the title and to follow the great teams of 1951, '59, '65 and '87."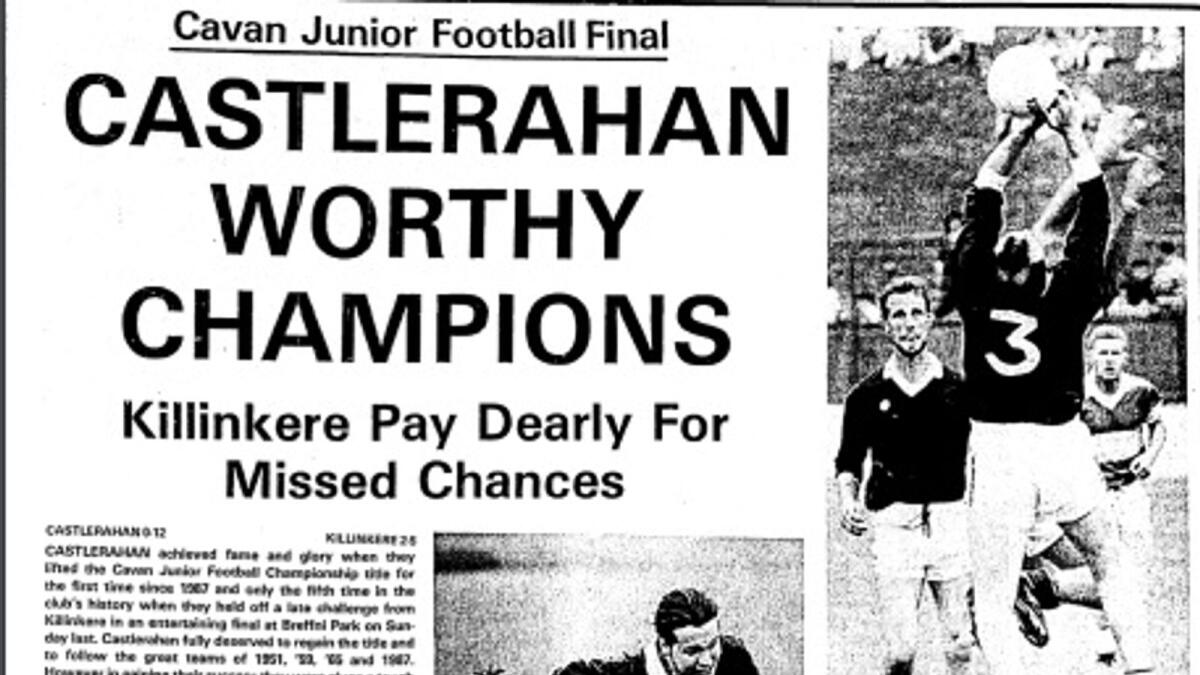 A clipping from the Anglo-Celt in 1991.
2001/2002
The club didn't achieve any significant success at senior level until 2001, when they won the Division Three league title and the intermediate championship on 29th October 2001. The replay v Drung was played on the October bank holiday Monday with Castlerahan edging the encounter by 0-10 to 2-02.
After the celebrations from the intermediate final had died down, all club members, supporters and especially players were looking forward to the long hot days of summer . . . and participating in the senior championship for the first time.
 When the draw for the round-robin stage of the championship was made, the club faced a baptism of fire with an opening game against then county champions Cavan Gaels.
Castlerahan put up a great display against the experienced senior teams but just fell short in the group stages , which seen them turn to the relegation play off .
Castlerahan acquitted themselves quite well, defeating Lacken, Killinkere and Ballymachugh and going down to neighbours Crosserlough and Ramor United. By virtue of scoring average, the team qualified for the Plate final and were defeated by Lacken by a single point after extra time. The prime goal for the season has been achieved through consolidation in the senior championship and – after a lightning climb through the tables – the players were looking forward to playing Division One football in 2003.
2001 Intermediate Champions
Back row (left to right): Barney Mulvey (selector), Paddy Cusack, Sean Fitzpatrick, Andrew Lynch, David Maguire, Charlie Clerkin, Paul Brady, Brian Mulvey (captain), John Flynn, John Clarke, Dane Smith, John Caffrey, Vincie Conaty, Kevin Coleman and PJ Lee (trainer).
Middle row (left to right): Mickey Duffy, Ronan Coleman, Fionan Callaghan, Jonny Lynch, Nigel Duignan, Mickey Caldwell, Ouray McBride, Tony Fitzpatrick, Alan Mulvey and Sean Brady.
Front row (left to right): Emmett McBreen, Ciaran Cahill, Steven Smith, Enda Mulvey, Fiachra Sweeney, Ferdia Sweeney, Niall Cusack, Paddy Campbell, Barry McBreen and Tony Brady (manager).
2018
At the fourth time of asking in as many years, Castlerahan finally laid claim to the Cavan Senior Football Championship defeating Crosserlough on a scoreline of 2-11 to 1-13, Castlerahan put the anguish of three lost county finals in succession to bed in a dramatic victory, and their first Cavan senior title.
In front of a crowd numbering almost 8,500 Castlerahan started the final in fine form, but found themselves Trailing 0-7 to 0-6 at the half-way mark and it would only take 15 minutes of the second-half to leave Castlerahan certain that they were the butt of a cruel joke. A goal from James Smith converted the opening goal of the game, it began to look as if castlerahan would fall short once again.
However, thrice bitten and no longer bothered with being shy, Castlerahan rallied.
The Castlerahan fans in attendance and those listening in from near and far held their breath as Enda Flannagan stepped up to take a penalty only for the crosserlough keeper to make a save but Oisin O'Connell was the quickest to react and lashed the rebound into the back of the net the comback was on! the crucial moment arrived shortly afterwards when Mackey and Ronan Flanagan combined to release Brady, who fired a rocket to the net for an excellent goal to tie the game
Level with 10-minutes remaining, that time would only bring about the one score – a converted free from Castlerahan's Cian Mackey. Mackey slotted over a free after a foul on Paul Smith to send Castlerahan into a one-point lead and despite huge pressure from both sides in the closing stages, the winners didn't put a foot wrong and held on to win a historic first SFC title.
Back row (left to right): Fergal Flannagan, Cormac Daly, Paddy Cosgrove, Fiachra Sweeney, Gavin Daly, Jamie Reilly, Karl Kiernan, David Wright, Jamie Leahy, Oisin Kiernan, Kieran Daly, Fergal Reilly, Ryan Cosgrove, Sean Brady, Eoin McCaul, Cormac Lynch, Euan Henry, Shane O'Reilly.
Front row (left to right): Aaron Reilly, Karl Cosgrove, Pauric Lukie, Garreth O'Reilly, Killian Mcenroe, Cian Mackey, Stephen Cooney, Ronan Flannagan, Shane McSweeney, Oisin O'Connell, Brain Ennis, Paul Lukie, Jamie McGrath, Pauric McGahern, Enda Flannagan, Enda O'Connell.
2019
Having lost three county finals in a row prior to winning their first-ever Cavan SFC title 2018, Castlerahan were keen to make up for lost time and they duly did so in a hard-fought final at Kingspan Breffni.
A seventh-minute goal from the outstanding Oisin O'Connell was the key score but equally as crucial was Castlerahan's poise on the home stretch. Under pressure, they remained calm and composed and drew on their experience as they held on to retain the title, having earlier retained the Cavan Senior League crown.
The early exchanges were cagey before Ramor opened their account with an excellent strike from 40 metres by James Brady, but disaster struck for the Virginia men two minutes later. Mark Magee did well to dispossess Castlerahan captain Ronan Flanagan but Ramor spilled it and livewire Oisin O'Connell was on hand to walk it into the net.
While the first half did not produce much in the way of free-flowing football or entertainment, the clash of styles was intriguing. Ramor were set up defensively and looked to pick off their scores on the counter, utilising Ado Cole where possible.
Castlerahan, meanwhile, were patient in possession as they tried to tease out opportunities. In truth, they cancelled each other out for the most part in the opening exchanges and scores were hard to come by.
The game caught light momentarily just before half-time. Oisin O'Connell, whose ball-winning was exemplary, set Man of the Match Cormac Daly up for a point but it was quickly cancelled out at the other end by Killian Maguire.
That pattern continued. Cian Mackey set Enda O'Connell up for a confident score to make it 1-2 to 0-3 but, again, Ramor picked out Cole and he slotted over with ease.
Castlerahan strung together two in succession from Shane O'Reilly (free) and Oisin Kiernan, from 40 metres after a line-break from Cian Mackey, but again Ramor hit back through Cathal Maguire and a free from the lively James Brady.
Paul Smith broke forward to fist the next but Ramor had the final say of the half, a 40-metre free from Brady, as they went in a point in arrears.
On the resumption, Donal Keogan's side had a huge chance to put clear daylight between the teams when Oisin O'Connell played Karl Cosgrove in but the half-forward's palmed effort struck the wrong side of the upright. It felt like a huge moment but Castlerahan didn't let it affect them and quickly added the score of the day from Oisin O'Connell from outside the 45.
Ramor hit back with another James Brady point and then a fisted score from Adam O'Connell as tempers spilled over on the sideline. United were emboldened by now and drew level on 40 minutes with a point from full-back Mark Magee.
But for all their momentum, Ray Cole's troops just could not get their noses in front. Mackey, now stationed in the full-forward line, won the ball well and curled in an outstanding point to seize back the lead.
This slow burner had belatedly come to light but it was a battle of attrition. There was no score between the 43rd and 55th minutes before Cosgrove made up for his missed goal chance earlier with a huge point from the right wing.
The closing stages were intense, error-ridden and exciting as Ramor pushed but Castlerahan, playing in their sixth final in five years including one replay, refused to panic. Deep in injury time, Ramor had chances from a free and a 45 but could not convert and Castlerahan hung on to finish the decade on a high.
Above: Ronan Flannagan and David Wright (Joint Captains) claim Senior Championship 2019